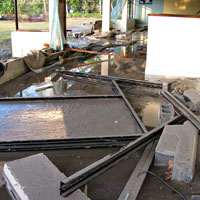 The King Kam's commercial laundry was devastated by fire in 2010. Lipps was hired to restore and update the laundry.

The tsunami - this job was unlike any other in the fact that the Governor issued a proclamation lifting the typical requirements relating to permits and inspections. If ever there was a design / build job, this was it. Lipps met with the owners and discussed different designs and began from there. Because Lipps had an established relationship with the hotel, they trusted us to re-build and make design changes with very little input.

Timelines - There was tremendous pressure from the hotel to rebuild as quickly as possible. There are yearly events (Including the Ford Ironman World Championship), that are very important, not only to the hotel but the entire community that are hosted at the King Kam.

Insurance - Lipps has experience working with insurers to determine the scope of the work and then provide competitive prices for the work. We have even been hired just to visit a claim site and then provide a written proposal for the fair market value of the damages. The insurer then uses this proposal to help negotiate a claim settlement.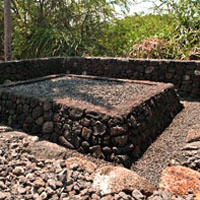 Kamakahonu Bay is one of the most culturally sensitive sites in Hawaii. This is where King Kamehameha chose to live during his reign over the hawaiian Islands. This area contains culturally sensitive artifacts and bones (iwi).

Many Hawaiians consider this area to be sacred ground. Lipps conducted themselves with the utmost respect, meeting with numerous Hawiaiian leaders, and others with ancestral ties to this site, to ensure all the proper protocol was followed.

Due to the significance of this site, Lipps also worked closely with the Hawaii Department of Land & Natural Resources (DLNR) and the Hawaii Office of Coastal Conservation & Land (OCCL) to ensure state guidelines were followed. We also worked very closely with Ahuena Heiau, the organization responsible for caring for the cultural sites at Kamakahonu Bay.

Special building materials and techniques were called for in this project, and we took care to follow the protocols of construction, as well as the aforementioned deference to tradition and history.